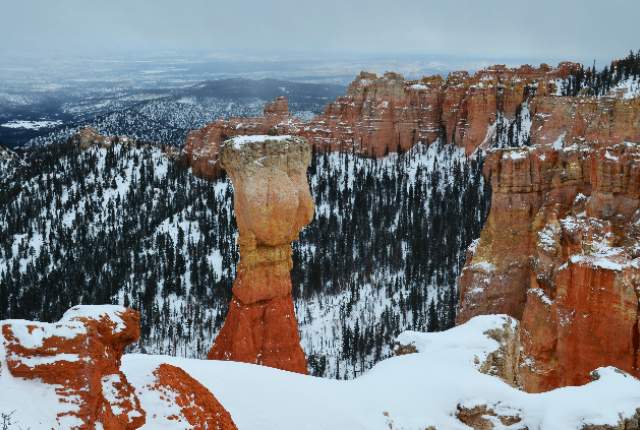 Since Bryce Canyon lies about 250 miles from Las Vegas by the shortest route, you will probably be staying overnight or longer outside the park. Private RV parks and motels are clustered near Ruby's Inn, the first hostelry used by early park visitors. For accommodations, check the Garfield County Travel Council's website. http://www.reviewjournal.com/columns-blogs/news/need-winter-escape-try-bryce-canyon-national-park
Turn south on state Route 63 at Ruby's Inn. The park boundary is less than 5 miles from the junction. The Bryce Canyon Visitor Center, just a mile and a half inside the park near the canyon rim and several scenic view points, remains open through March from 8 a.m. to 4:30 p.m. Park entry costs $25.

Winter visitors to Bryce Canyon will find plenty of things to do day or night, indoors or outside. The key to enjoying a winter visit to this high, frigid park is being adequately prepared for the conditions. You will need winter gear, including layered warm clothing, head and hand coverings and snow boots or waterproof hiking boots. Take extra mittens and socks and carry warm blankets. Since you won't find much to eat in the park in winter, plan to tailgate picnic using hearty prepared foods, hot beverages, high-calorie snacks and water. www.rosemarielv.net

Stop by the visitor center first to learn about weather, road conditions and what activities are planned during your visit.